Improve Your Credit Score!
SAVE THOUSANDS on Cars, Mortgages & Credit Cards
 FINALLY!! A Credit Bureau INSIDER REVEALS
How YOU Can CONTROL YOUR OWN CREDIT SCORES!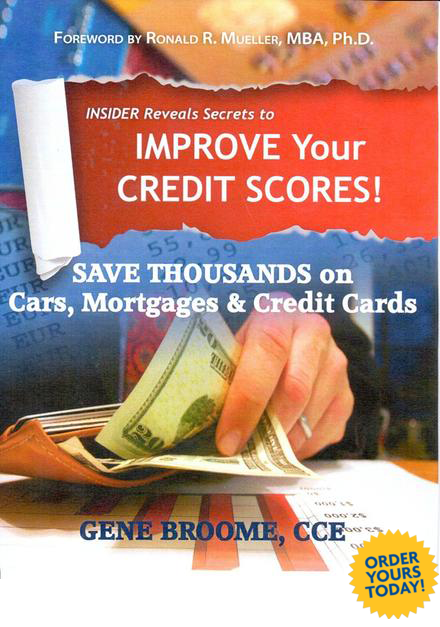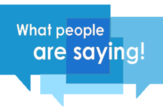 "Gene's seminar and book should be required for EVERY American, not only to ensure we get off to a GREAT start–but also to understand the secrets and techniques to HELP US when life may not go our way. Gene is someone you can TRUST–as he is truly on your side. But most importantly–he unlocks the mysteries of credit scores and financial futures with simple steps we can all easily implement right away–so we can ALL live the life we truly want!"
–Andy Masters, MA, CSP, and Award Winning Author of 5 books on Career and Personal Development
GENE'S BOOK IS A WONDERFUL GUIDE TO UNRAVELING THE
MYSTERY OF JUST HOW CREDIT WORKS- HE TAKES THE SUBJECT
OF CREDIT AND MAKES IT HIGHLY EDUCATIONAL,
INFORMATIVE AND ENTERTAINING!
IF YOU ARE READY TO START THE JOURNEY TOWARD A BRIGHT
CREDIT FUTURE OR SIMPLY WANT TO ACHIEVE THE BEST CREDIT POSSIBLE,
YOU'LL DEFINITELY WANT TO ADD THIS BOOK TO YOUR LIBRARY!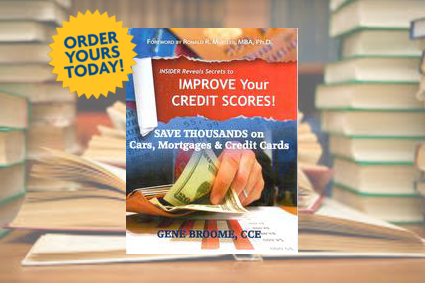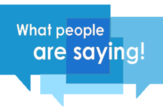 "Gene Broome's invaluable book and content-rich credit wellness seminars add huge value to everyone's financial literacy.  And no one makes it more fun to learn about a "boring" subject!"
–Dr. Ronald R. (Ron) Mueller,  Author of "Home Business Tax Saving, Made Easy!",  San Diego, CA